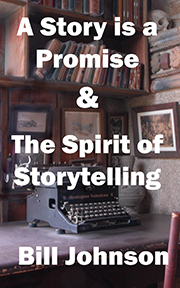 A fifth edition of my writing workbook, A Story is a Promise & The Spirit of Storytelling, is now available for $2.99 from Amazon Kindle.

This edition offers new, unique tools for creating vibrant story characters, how to outline a novel, and a guide to writing a novel, screenplay, or play, how to evaluate a manuscript, review a screenplay, and tools to revise a novel; and my new essay, Storytelling and the Superconscious Mind.
I've created a series of videos titled Oregon Writers Speak, which are also posted on YouTube. Here's my introduction to the video series.

Elizabeth Lyon speaks about writing query letters. Elizabeth is the author of Manuscript Makeover and Non-fiction Book Proposals Anybody Can Write. Mike Thaler, author of The Teacher from the Black Lagoon and The Bully Brothers, takes viewers on a tour of his work studio. Sandra Stone reads her award winning poetry on this video. In the category of Philosophic Lyric, her work has been named a distinguished entry for the 2010 Campbell Corner Prize.

Noted teacher Eric Witchey speaks about the craft of writing fiction. Christina Katz speaks about her Northwest Author Series in this video. Christina is author of Writer Mama and Get Known Before the Book Deal.

The above works are licensed under a Creative Commons Attribution-No Derivative Works 3.0 Unported License. Top of page